As part of her series 'Living Archives' curator Lotte Løvholm interviews performer Lydia Östberg Diakité about their practice. Lydia unfolds themes related to specific works like iconic walks, crying practices, working through pleasure, and creating new collective realities.
Lotte: Would you start by describing your work Immortal Summit (2021) with BamBam Frost?
Lydia: I have just been editing the performance text because we are presenting it now in March here in Copenhagen and then in Lausanne in May. I'm so excited to present it again. Being the choreographer and the performer at the same time gives you an inside and outside perspective, so it has been nice to let it sink in a bit after creating it.
The piece is about these two characters bound to and trapped in a parallel universe with the leftovers of humans' obsessiveness to power. The piece deals with questions of immortality as a human obsession: to live forever, be the best forever. Delusion of grandeur as an apparent societal problem. So what happens when that is your only reality and you are just stuck in it forever. Does it become an exhaustion and an emptiness when you're always the best and always on top?
Creating the piece we talked about black excellency, and iconization within popular culture and how it is routed in extreme unfair, dehumanizing circumstances. Yet people, icons, arise and are the greatest artists of all time but what is the sacrifice? What was the entry from the beginning? See Whitney Houstoun, Billie Holiday, and the controversy around Ye (Kanye West) only to name a few… There is often only one way "out", mental health issues or death.
So we wanted to ask questions of what lies beyond this obsessiveness. In the piece we work with a cut, a blackout, a postlude. I see the postlude as a proposal for a new, other reality.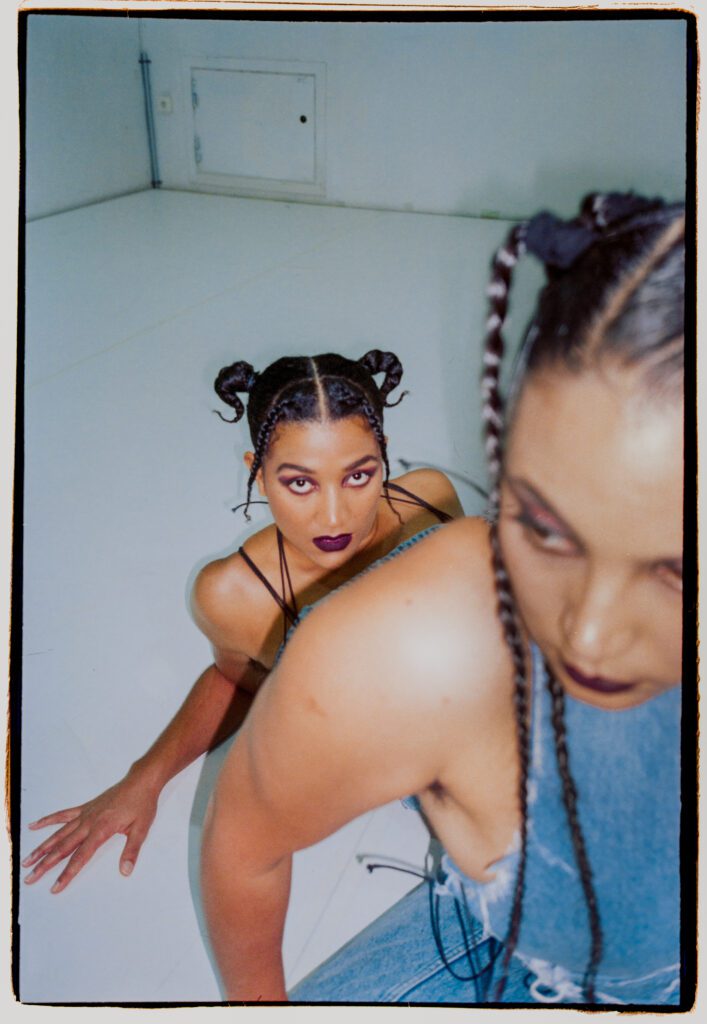 Lotte: How does that manifest in the movements?
Lydia: We created some methods and practices inspired by performance and entertainment history. We studied different iconic ways of walking on stage, for instance Freddie Mercury, Tina Turner, James Brown. All of these walks stand out and are remarkable, they crystallize in time. Transforming those walks, adding absurdity, and movement practices of associations created the quality of movement for these two characters.
Lotte: How did you work with movements for this new reality after the black out?
Lydia: We created this practice where we tumble; through being entangled we carry each other with strength and tenderness. We lift each other in different ways, unfolding images that are filled with all kinds of humoristic, intense and beautiful associations. Constantly connected as bodies we are soft towards each other. In this movement, in this case, two bodies are meeting in full strength and capacity and the only option is moving through trust and care. Like I'm here for you, I move, you move, we move.
And the music created by Holger Hartvig moves through this epic landscape initially only based on electric guitars and saxophone, played by Aase Nielsen and Holger Hartvig. We invited them into this process to unfold a musical landscape, looking for sounds that are just epic: playing around with tropes from stereotypical rock music and stadium aesthetics, and morphing them beyond the point of epicness.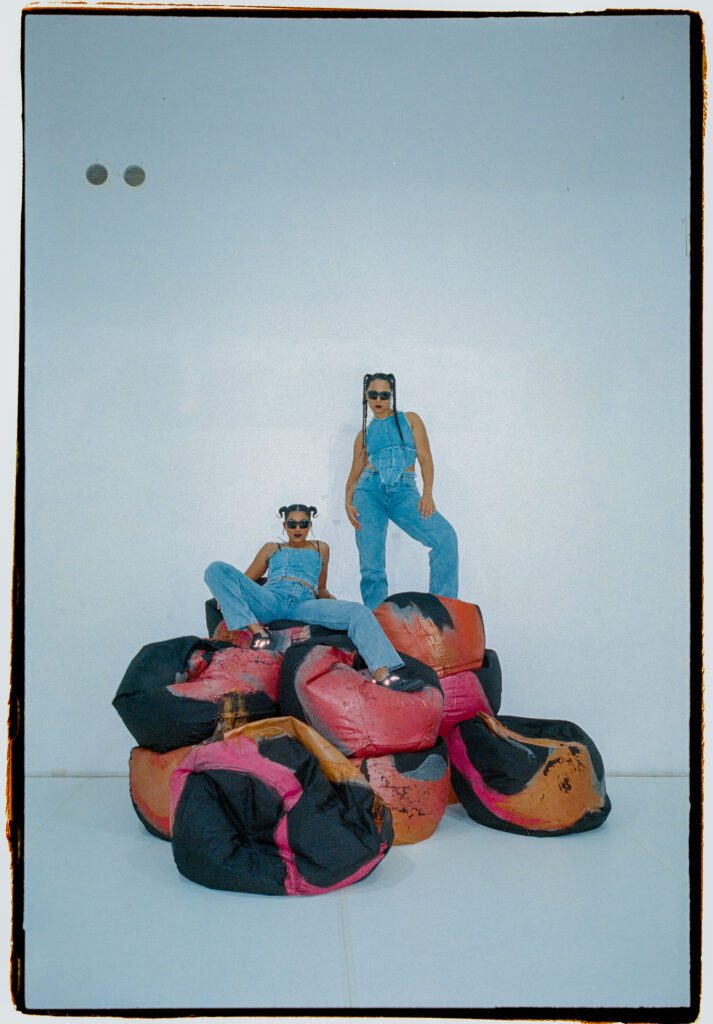 Lotte: Do you also have lyrics in the piece?
Lydia: In the final version no, but we tried out some different things. Maybe it will come back. It is great to get the chance to revisit this piece. It is about finding the details of what you really find pleasurable and what the piece needs to be unfolded truly. Both Bambam and I are fans of Octavia Butler and our leading motto during this process was "All that you touch you Change. All that you Change Changes you. The only lasting truth is Change. God Is Change." This is one of many places that connects us in our ways of approaching art. We had a huge amount of trust creating it from the fact that change is possible, always. And I loved that.
Lotte: I wanted to ask about your collaboration with BamBam, you just ended a residency at Konstnärsnämden international Dance program, in collaboration with IASPIS. How did your collaboration start?
Lydia: I was invited to work as a dancer in her first piece SORRY (2018), the re-staged version for Riksteatern now called SO SORRY (2019) for a Sweden tour. It is a great piece, and it was very funny with a great concept. Very inspiring. But actually just before we started that process, BamBam invited me to go to New York together where we did a performance at La MaMa, which was the starting point for this partnership love story. It was research for her "solo" piece called Yes (2020) that I'm also part of.
We performed at Moderna Museet with A Choreographic Conversation (2021) in the context of Lynette Yiadom-Boakye's exhibition. That's where we started this practice of Tumbling that we do and our first co-authored performance. Or we actually did an interactive show called LAJV DANCE at Närheten festival in Bagarmossen (2019). Over the years we've collaborated on many projects.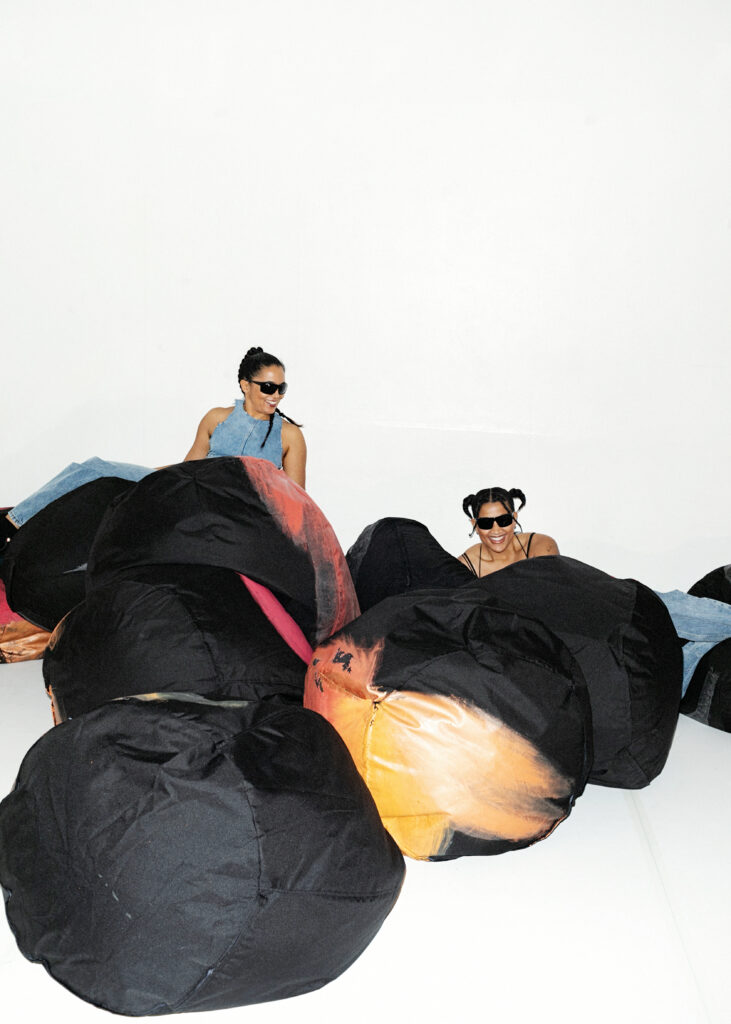 Lotte: I love the title of the piece A Choreographic Conversation. How did you come up with it?
Lydia: The invitation was to present a work inside Lynette's exhibition. It felt very clear. We were having a conversation with her art and with each other within that space.
Lotte: You work a lot within both white cube and black box settings. How do you approach these two different contexts?
Lydia: I really appreciate the possibilities both settings provide. They allow for different experiences in their relation to temporality and the audience.
Lotte: In my experience there is a fatigue for many artists having to perform in the white cube because the work often gets squeezed into an existing program. I also think it comes down to this frustration of hierarchies between exhibition and performance. But I understand how it can be a good balance too for your practice as you also often perform in black boxes.
Lydia: I understand that. There are clear hierarchies. My starting point of presenting work is within the expanded field of choreography where the dance, performance and choreographic practices are centralized. I really believe in the power of performance. The Body to Body experience.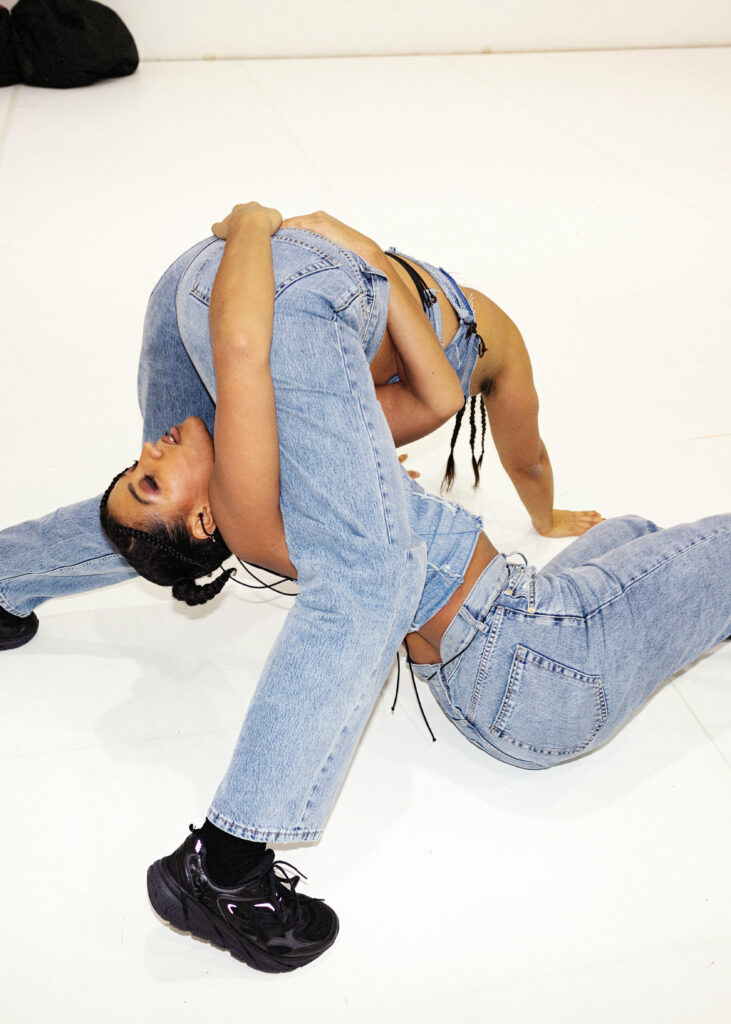 Lotte: In addition to your collaboration with BamBam you also work together with choreographers Meleat Fredriksson and Adam Seid Tahir consistently?
Lydia: We started working together on Embrace (2020-) and then we have worked on each other's projects in different ways afterwards. Embrace was a beautiful process of coming together, getting to know each other, and embracing each other.
The piece talks about braiding your way through an afro-diasporic experience in Nordic landscapes. Like the movement of braiding, over under, collecting, separating. We were invited to a residency by Vitlycke – Centre for Performing Arts and then COVID came. So we were standing in huge uncertainties of how to proceed and it opened up a moment in time where we could really work on questions of collaboration. What does it mean to work together? What does it mean to be a collective? How do we move in times of lockdown? Because of the pandemic we shared a work-in-progress in Dubrovnik 2020, so we are looking forward to premiere it next year in May 2024 at MDT and continue the work.
Lotte: Do you consider the level of physical exhaustion when you create new works?
Lydia: Not really, you create a piece for what the concept needs and then you deal with the aftereffects. You train for it. And the training, being in the dancing is an important part of the practice. Maybe where I'm now, I would think about it, but before I haven't thought about it much. I just really love moving slow these days, always actually. I have another piece, Fiebre (2018), co-created with Tamara Alegre and Marie Ursin, that's very demanding where we're moving in 200 liters of slime. It's like being in a swimming pool basically. And in that case it was the slime that dictated how we moved.
Lotte: Apart from your performances you also work with video and installation. Would you describe the piece Cry Baby (2020) which was commissioned by DNA for the 11th Berlin Biennale?
Lydia: I was invited to create a work for DNA's digital platform Hydrocapsules.love that was their contribution for the 11th Berlin Biennale.
It was a very open invitation. They had been working with and learning more about hydrofeminism and ecofeminism so that was part of the conversation. Cry Baby (2020) is an installation of 11 gifs, a video and a sound piece. The piece departs from a crying practice, crying as a way of releasing trauma and connect with other bodies of water through the act of crying.
I had read about how sound moves slower in water and I was interested in relating and tracing tears and the poetics of water as a constant entity that connects you to your past and future directly. I departed from my own African diasporic experience, the colonial history and reality, families separated by bodies of water, oceans.
It is filmed where I grew up in Dalarna with this character wandering around in a forest landscape. The text in the soundscape speaks about different themes related to crying: tears that pass on from all kinds of different bodies through generations and how they can still embrace you, empower you and carry you further. But it is also about letting go and to cry to start releasing all that pain. The stereotypical response to someone crying in popular culture is something like, "don't cry", "everything's gonna be alright"," You don't have to cry about it" and this is the perfect example of how stigmatized crying is. I took references from pop culture and had a lot of fun finding these epic cries that many know. I wanted to work with this problem: crying is so stigmatized, and you are perceived as "weak" or "vulnerable" if you do. I believe in crying as an act of revolution.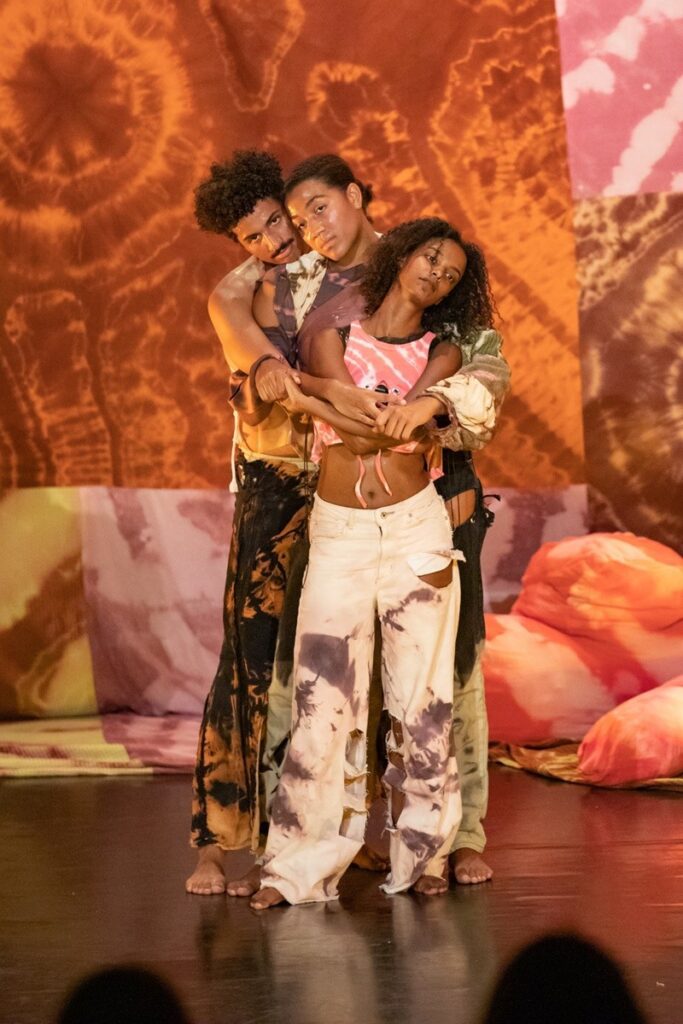 Lotte: How did you work with the text in Cry Baby?
Lydia: Similar to my dance where I work with associative movement practices, I worked with associative poetry and text writing. This process of writing was very intimate because of the theme of separation and crying.
Even if it's intimate as an intersectional feminist practice all my experience is material, all that is private is public, there is no one original experience. I know someone can relate.
Lotte: Currently you are working on a new exhibition?
Lydia: I'm creating a new piece for Platform at Nikolaj Kunsthal curated by Awa Konaté. The work is about expanded notions of the gospel and will work as a performance and an installation. It opens in October 2023.
Living Archives
Living Archives is a series of conversations organized by curator and writer Lotte Løvholm with performance artists and researchers. The purpose of the conversation series is to highlight stories that are easily forgotten when art history is written:
"I will attend here as well then, to the ways in which art criticism has tended to leave out specific histories, and thus specific bodies, in order to purvey supposedly "new" ideas about art trends. The stakes here are high, because the histories that get told, and the ways in which they get told, determine what we remember and how we construct and view ourselves today."
Amelia Jones: "Unpredictable temporalities: the body and performance in (art) history", Performing Archives / Archives of Performance, 2013.