This text is a part of the collaboration between HAUT and bastard.blog. A collaboration where we try to find new ways of documenting artistic research and work methods. 

A workshop proposal.
"With the IN PROCESS How-To-gether week-long residency curated by HAUT and HUMUS collective, Joni Barnard and Zee Hartmann addressed the following questions in an embodied state, making sure the research lived within their physical and intellectual states.
How do we get to the work? What obstacles prevent us from reaching our conceptual and physical goals during the creative process? Are hierarchies inherently toxic? Can we create hierarchical structures that are not based on power, but on effective creative decision making? How do we assume leadership roles that are not toxic or about power, but instead prioritize the group? When do we negotiate and when do we surrender? We cannot all make all the decisions all the time. How do we create a mechanism of questioning and input without laborious negotiation that overwhelms the work and the working process?
Their goal was to cultivate strategies within their collaborative practice that continue to hold multiple truths, sensitive to Copenhagen and Europe as a desired locality for both without compromising their lived experience as citizens of the Global South. For the last 5 years Joni and Zee have been individually facilitating workshops that were based on their separate research interests. Through the course of the week, they discovered that these individual research projects can be merged in a more comprehensive and collaborative way. As a result, they are now in the process of structuring a co-facilitated workshop series focusing on methodologies of consent and decision making within artistic processes. This workshop series will be launched in autumn 2023."
On Sunday the 23rd of April a small group of people gathered at the Zeppelin Theater in Vesterbro in Copenhagen. I had come with a small hope to get some kind of satisfaction – and this not mainly in the amorous connotation as the word satisfaction can more easily allude to. Instead, it was related to subverting hierarchies, colonial, capitalist, ego-driven motives and actions, as the invite of the current residence wrote themselves.
The two artists in residence at HAUT was Joni Barnard and Zee Hartmann who proposed to corrupt traditional collaborative hierarchies rooted in western colonialism by developing a workshop exploring consent and decision-making processes within performance-generating frameworks.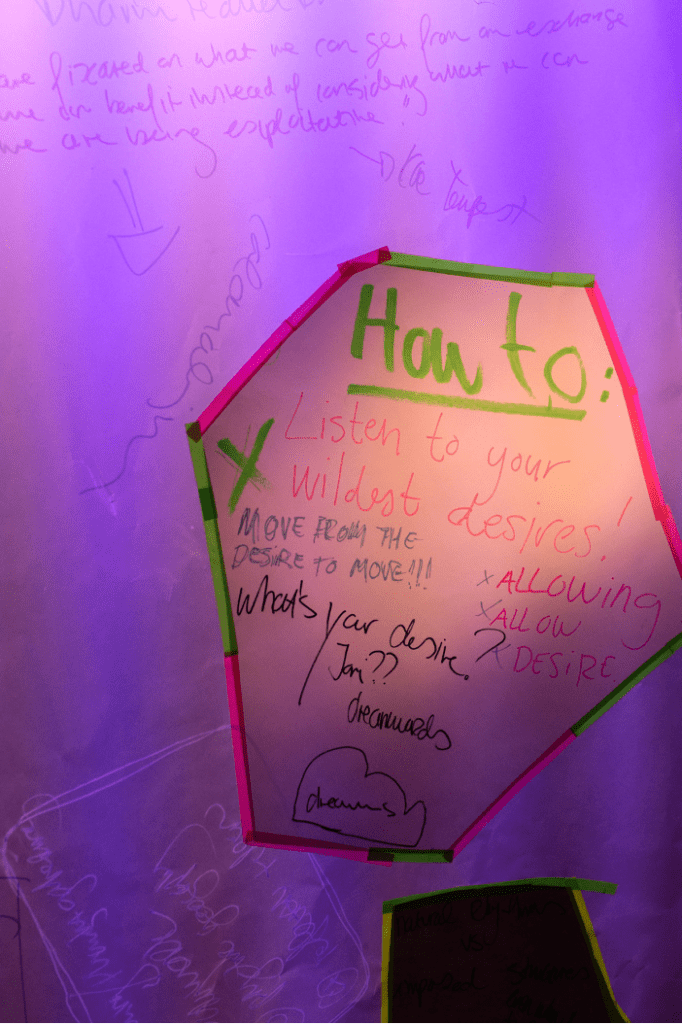 Barnard (they, them) presents themselves as excited by queer and trickster approaches to life and work, practices of consent and radical liberation. Originally, they are from Johannesburg, South Africa and they are currently living and working in Berlin.
Barnard has a background as an artist, live performer, rapper, choreographer, facilitator and cultivator of embodied activism. They create subversive work to encourage people to reflect on identity politics and sociopolitical issues, such as gender diversity, racial and power dynamics, and radical inclusivity.
The other artist, Zee Hartmann (they/she), is from Cape Town, South Africa. They hold a BA in Dance & Theatre, an AA in Fashion Design, an MFA in Dance, and an MA in Dramaturgy. They are a multi-disciplinary artist that maintains a critical & creative writing practice, works professionally as a photographer, and owns and operates their own fashion label. They currently live in Berlin, working on a freelance basis with both locally- and internationally situated performance artists who specifically focus on queer & feminist subject matter.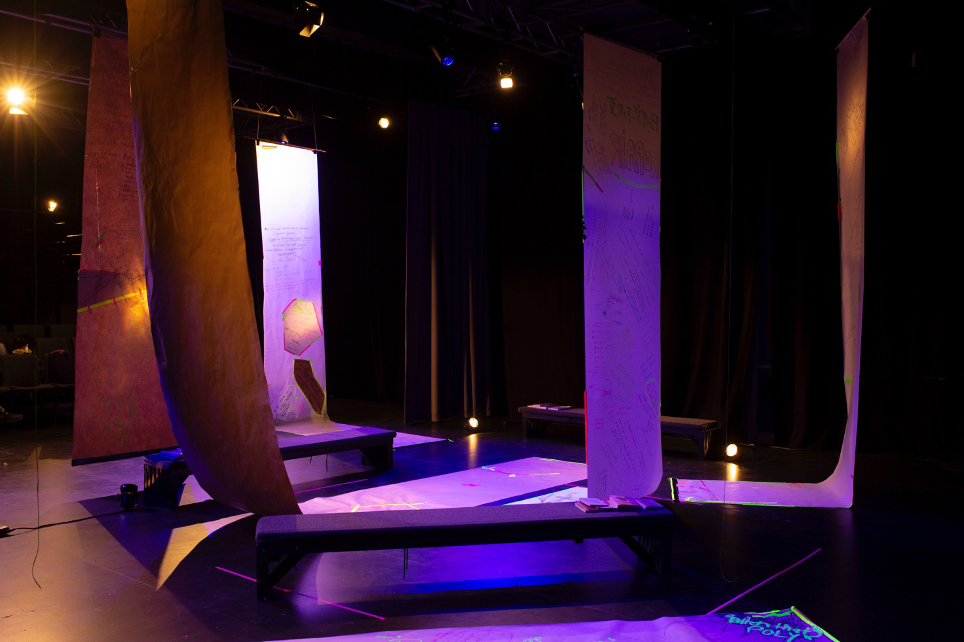 When entering the room at the Zeppelin Theater, I was greeted by Joni, who shook my hand and with great kindness invited me to take part.
The stage was made up by a scenography of rolls of paper, which hung in different lengths, all with writing on them, that was made in a note like style. Some rolls where more filled out than others, and was framed by fluorescent strip lines, that drew the eyes to the pop-up effect that they made.
Benches were placed in three different places, and had books laying upon them, almost as bodies or people already sitting there. The titles ranged from White Fragility by Robin Diangelo, to Manifesto On Never Giving Up by Bernardine Evaristo, to Against White Feminism by Rafia Zakaria and Against Empathy by Paul Bloom, just to name a few. It was like the books themselves were inviting me to sit down and start a conversation – both with the work as well as the other people in the room.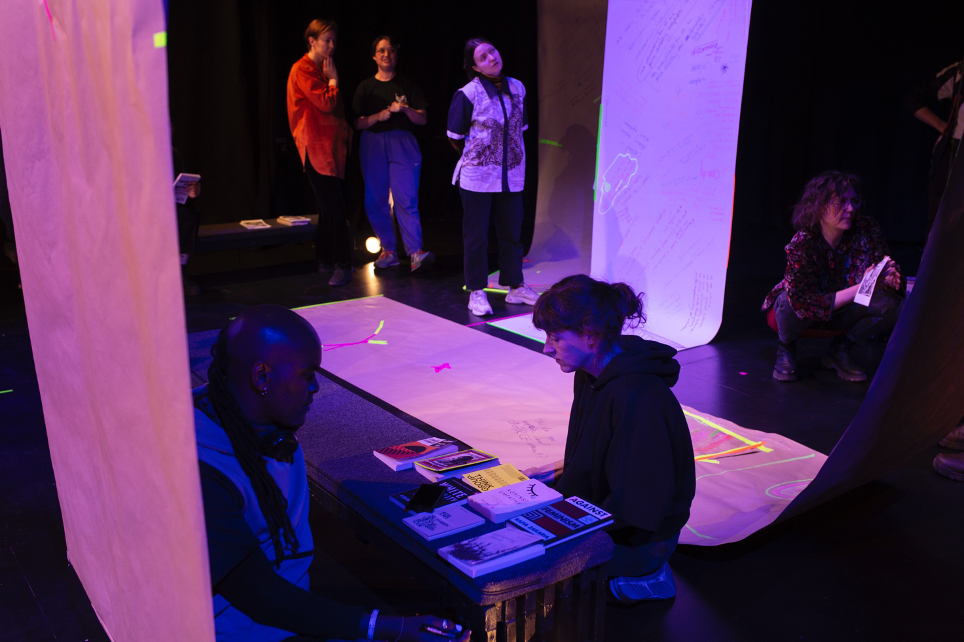 What I noticed the most, was how the room was instantly filled with a gentle intimacy, which made everyone move with ease and relax. It was difficult to know exactly what was going on: was it a performance, a workshop, or a conversation? It was a joyful doubt, that was not interrupted at any point, only emphasized by the conversations that both Joni and Zee instigated in one-on-one conversations, where they asked from a place of not knowing, yet searching.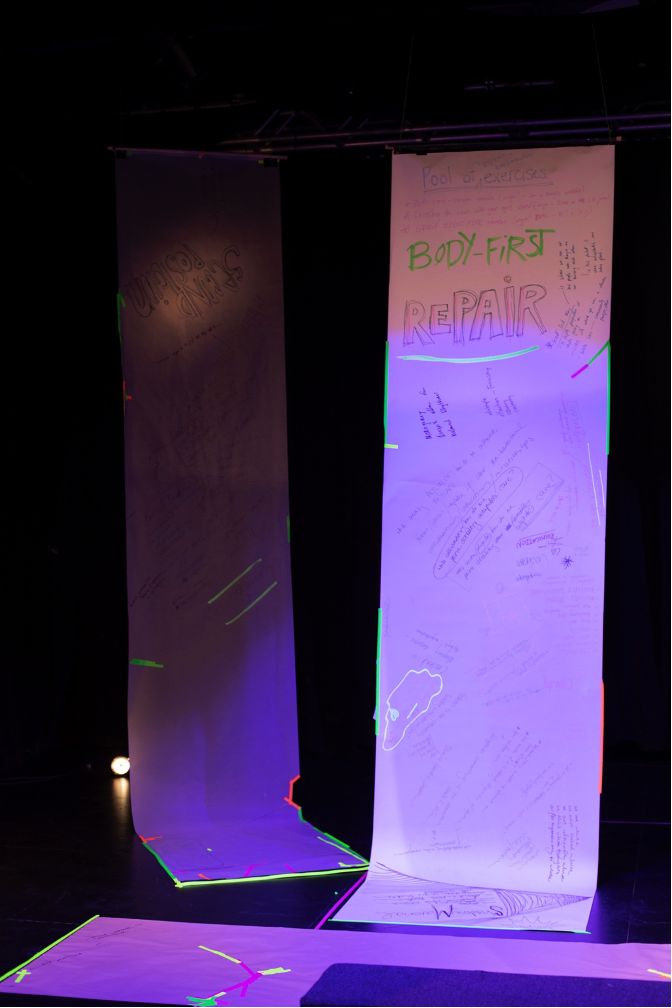 This workshop, situated between different genres, gave me the opportunity to think further along the lines of what it means to perform, which has made me investigate the etymology of the word:
As a verb it means to "carry into effect, fulfill, discharge, carry out what is demanded or required," and non-performance means to: ""failure or neglect to perform".
We are all deep diving in a violent mud which is called neoliberalism, where especially all those who are self-employed within the creative sector are having to perform themselves on social media, as well as in applications and at gallery openings etc., as to get the next gig and be able to pay next month's rent.
If we have become a culture where performance is constant, then how does that seep into artistic performance? And do we need to then let artistic performance be a place of possible relaxation, if it is to be a place of subversion, a small possibility which is lacking in society overall?
Perhaps the biggest subversion and satisfaction one can be part of and lean into, is to find ways to exist in calm awareness, and not thinking of performing and non-performance as binaries, instead as ying-yang energy, which needs to balance?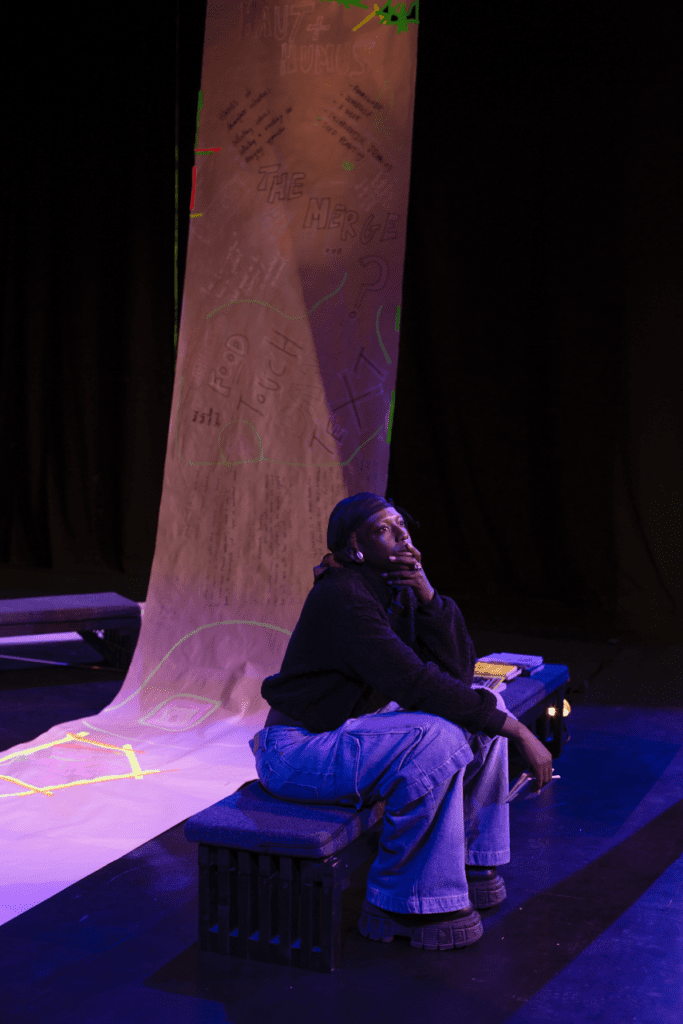 I moved around the room and felt a kind of magnificent loss of understanding and bending of norms, rules, and hierarchies: both Joni and Zee came over and talked to me, but where they had a conversation with me, that was an honest enquiry into my experience and thoughts, instead of there being a right and wrong, a facit which I as a participant should arrive at.
We spoke about being polyamorous, about consent and about astrology, in a mash up of entanglement. We spoke about how polyamory can be "transferred" into the realm of friendship, thereby changing normative ideas of how love behaves and looks. We opened ourselves to the possibility of entering polyamory as a way to work with issues regarding control and intimacy, thereby queering polyamory into new modalities.
The small hope I had come with that day, grew bigger while being in this space, and I am still contemplating how to continuously allow performance to move in the direction of this kind of generous workshop, where ownership is moved into the participants.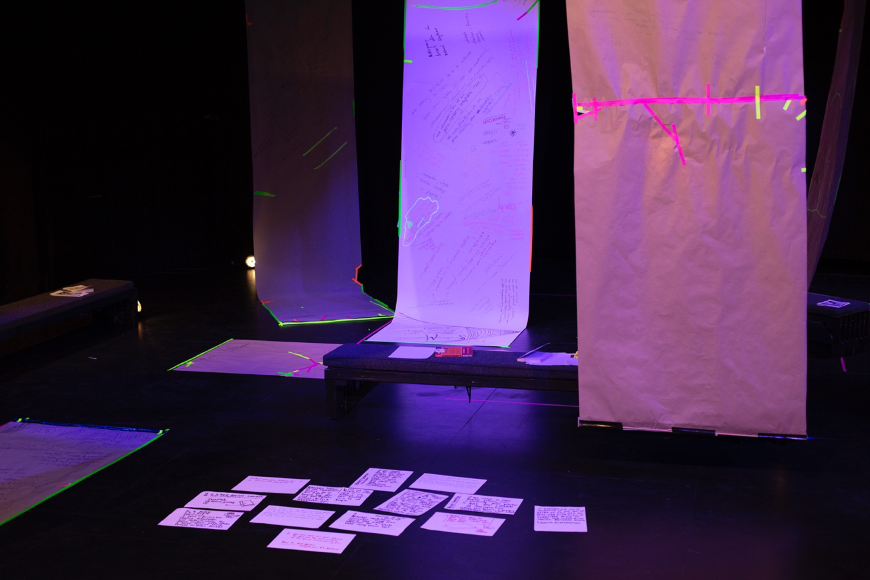 Collective satisfaction – Practices of consent and decision-making in non-hierarchical collaboration.
A workshop proposal by Joni Barnard and Zee Hartmann.
Format: IN PROCESS
Genre: Lectures Performance
The residency takes place at Zeppelin, CPH.
17.- 23.04.2023
Worksharing:
23.04.2023 at 2-4 pm
HAUT and bastard.blog are collaborating in order to find new ways of documenting artistic research and work methods.

About HAUT
HAUT is a performing arts organization focusing on artistic development work and knowledge sharing. Through collaboration with a wide range of art institutions, HAUT creates space for performing artists to develop and immerse themselves in their artistic practice under sustainable working conditions.
ABOUT IN PROCESS
IN PROCESS is a residency placed at the very beginning of an artistic development work. The residency is curated via open calls 6-8 times a year in collaboration with partners and co-curators.